Obligatory fall post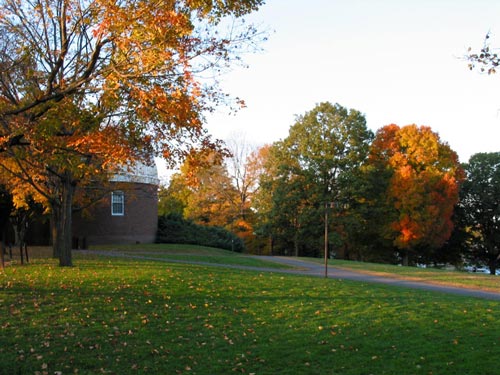 For your enjoyment, and because Mum asked me to, I present some photos of the fall colours on campus this year.
For those who don't work at Wesleyan or live in Middletown this shot is taken on Foss Hill, which is kind of the spiritual hub of the university. This is where key events at WesFest, Spring Fling, the zombies game, Feet to the Fire, and soon WesWars (and probably a million other things I'm forgetting) take place. It's also where the residents of Middletown come with their sleds and their rug rats when it snows good and hard. When I make coffee in the morning I can see the hill from the big window at the end of the hall, with Van Vleck Observatory peeking out of the foliage; it was especially beautiful this morning, though they really need to paint the roof again.†
If you click through to the gallery you'll see a few of the shots of Middletown that I took this afternoon from the roof of the Allbritton Center, which used to go by the name "Davenport." This part of the river valley used to be called Mattabeseck and the surrounding country was called Quinnehtukqut. These names I like. If you're a fan of Ursula Le Guin's Earthsea trilogy you'll know what I mean. "Middletown?" well, okay. "Mattabeseck" — there's power in the old names of things.
† I brought my camera in today to take more photos but the battery died on me after about six clicks. Since this is the second battery and the camera is about seven years old it might soon, finally, be time for me to move on and get something better. And yes, for regular readers of Zero to One-Eighty this aside was for LydiaT.