Straight to the pool room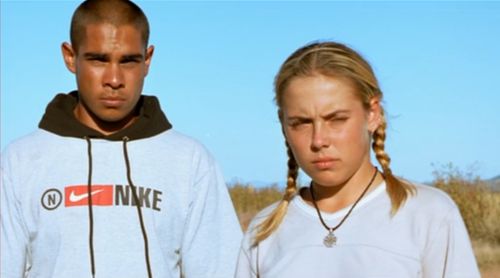 Vaughn and Lena in
Beneath Clouds
(2002)
The best Aussie films list is about to turn 6. I've updated it to include a total of 68 titles, and another 58 contenders. That's 68 recommended films since 1991 so far—over three good Australian movies every year. And that doesn't include the ones I haven't reviewed for the list yet.
This is easily the most popular thing I've written, and probably counts for about 80% of the traffic to my site in the past year (the page gets roughly 2,600 hits a month).† Since so many people are interested in Australian movies, many of whom had left comments and suggestions, the least that I could do is sit on my couch and watch some flicks.
So that's what I've been doing. I also combed through the comments, adding suggestions that people had made over many months (and explained why I had to reject a few of them). You may not like them all, but I think they are all worth your time. That's the main thing I consider when deciding whether to move one from Contenders to the list proper: is this film worth 90–120 minutes of someone's time? If the answer is yes, then up they go.
Check out the best Australian films since 1991 when you have a moment, and enjoy!
† The top countries visiting this site are, in order: USA, Australia, UK, Canada, India, Ireland, Germany, Netherlands, New Zealand, France, Sweden, Philippines, Spain, Denmark, Brazil, Japan, Malaysia and Belgium.