Hyperventilating
Just the facts, ma'am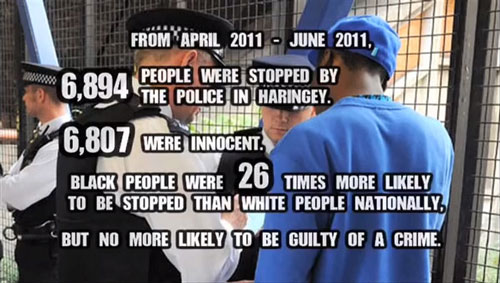 6,807 innocent people arrested in three months
Tottenham is in the London borough of Haringey:
From April 2011 – June 2011, 6,894 people were stopped by the police in Haringey. 6,807 were innocent. Black people were 26 times more likely to be stopped than white people nationally, but no more likely to be guilty of a crime.
Then on Friday, August 5, 2011 the police shot and killed Mark Duggan, and said that he fired a gun at them when he didn't. Duggan was a father of three, who had hoped to marry his partner Semone Wilson and move out of Tottenham with his family.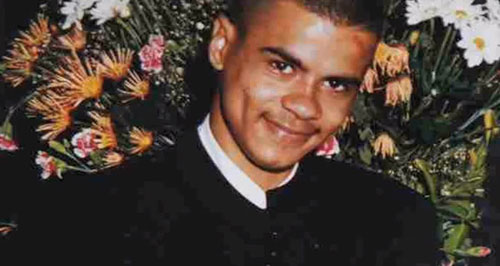 Mark Duggan
Not long after some residents started burning vehicles and buildings, and other residents allege that the police allowed this to happen without intervening. People's homes were destroyed.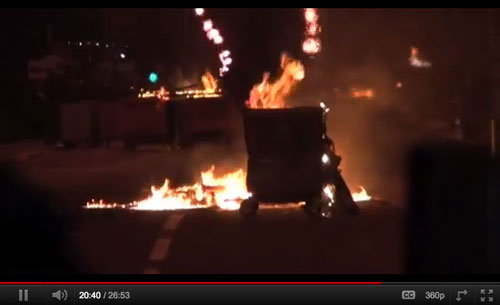 Tottenham burns.
Watch it →
Prime Minister David Cameron addressed the British Parliament on August 11 saying:
It is simply preposterous for anyone to suggest that people looting in Tottenham at the weekend, still less three days later Salford, were in any way doing so because of the death of Mark Duggan.
But facts need to be joined together
The following week, Paul Gilroy talked about how dealing with these problems involves understanding the "interconnecting parts:"
When I talk about the poverty of the imagination, I mean that we are thinking like people who approach these things through the lens of a privatized world. We only think of these things as individuals, and we don't see them as connected. The last week has been an amazing class, a primer, to give us the opportunity to understand how these things function today.