Who are you wearing?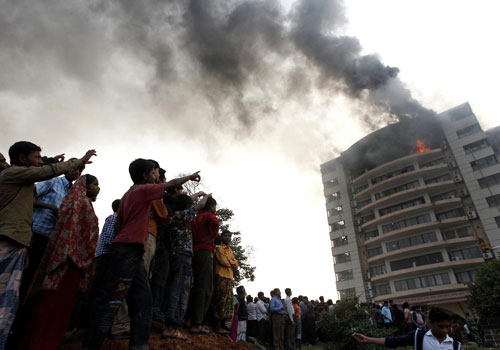 Hameem garment factory burns
(Photo credit: Reuters/Andrew Biraj)
Yesterday marked the one hundredth anniversary of the garment factory fire in New York City that killed 146 workers, the majority of whom were women. Democracy Now! devoted the whole March 25th episode to this story. They played an excerpt of Amy Goodman's interview from 1986 (the 75th anniversary) with the fire's last survivor. The workers who died had been active in the labour movement in the lead-up to the tragedy. The deceased were largely blamed for their own deaths in the ensuing court case. Their compensation for working at the Triangle Shirtwaist Factory was roughly $3 per hour, in today's money.
On December 14th last year a Bangladesh factory at Hameem caught fire, killing twenty-nine workers and injuring over one hundred. The rate of pay there is $0.28 per hour. Labels that produce clothes at this plant include Gap, Phillips-Van Heusen, JCPenney, Abercrombie & Fitch and Target.
Something to think about.