Coming to America Redux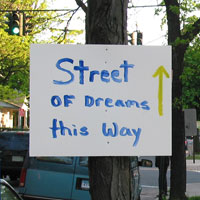 It's finally finished! The 2002-2003 photos series, "Coming to America" has been pre-washed, soaked, hot-washed, scrubbed and double-rinsed, and it's now back where it belongs—serving as the low-riding pants (above the footer) on Longitudes. It took longer than I expected (and than I promised) but now all of the 633 photos from my first year—that I decided to keep—are back up on the site, sitting in their nice new frames, and completely and thoroughly captionised.
The "Coming to America" set began with the photos taken by my dear friend Atsu in Kyoto in 2002, where my father and I spent a few days on route to the U.S.A. to install me in my new home city of New Haven. I didn't actually get my digital camera until May of 2003, and all the photos taken prior to that date are from OPCs (Other People's Cameras), some digital, some not. In an interesting turn of events, I ended up with exactly the same camera as Angel Manzur, who took many of the early photos in this series—a Canon PowerShot G2. So there is some unintended, but welcome, consistency throughout the series. If you're really interested you may notice the cross-over point most clearly in the Yale Campus photo set which begins in Angel's expert hands in the winter, continues through the spring with some amazing pictures of narcissus and other blooming wonders, and then passes over to me with some early summer shots that aren't nearly as well lit. Oh well, things have improved since then.
Apart from Atsu and Angel, the other person who deserves the most credit for my pre-camera-owning photos is Shoham Melamed, who fearlessly hauled her non-digital Ricoh around to the many and various events of our first year in the States, and then dutifully had them digitised at the local Walgreens for e-mailing to friends flung far and wide. If not for her efforts, and those of my other friends, I would not have anything to show for my first nine months in the United States. Atsu, Angel and Sho: thanks for the pix! It was you guys who got me interested in amateur photography, then in buying my own camera, then in discovering iPhoto, then in learning the various wonders of HTML as I made my first web site for sharing the images of my travels. Longitudes came about as much through your efforts as through mine.
The next instalment in my photo journal will be the 2005-2006 series. Of course the year, as reckoned thusly, is not yet over but it's about bloody time that I caught up on things and I pledge to you that I will soon be in a position to make regular updates. Thanks for stopping by, and I hope you enjoy the pictures.
Update: Longitudes is no longer available. Please see the Changes page for additional information.