Shoham and Michel's Wedding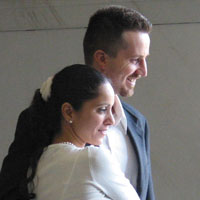 I'm very happy to report that Shoham and Michel were married on Friday, March 31st, at New York City Hall. We took a lot of photos and I've posted them on two separate pages in Longitudes: photos 1-39 and photos 40-78. All the images appear in order of the day's events, and include captions. Hover your cursor over the images to read the captions. Click on the thumbnails to enlarge the photo.
We arrived at City Hall around noon and the blazing-fast ceremony took place around 1:00 p.m. Ates calmly and expertly recorded the whole thing on video (if I am able to optimise it for the web site I'll post it here on DR with a message). After the ceremony there was some trekking about town to get the appropriate forms and signatures, and then we headed back to Aysel's place (Ates' partner) for a toast and some amazingly delicious snacks. By 7:00 we were at Esperanto for dinner, where we met up with more friends before heading off to karaoke. The pictures should speak for themselves!
Congratulations to my dear, dear friends Sho and Michel. I'm sure I speak for everyone when I say we wish you the longest happiness and the deepest joy in your life together. It doesn't seem possible to me that you two could have chosen better than you did when you chose each other, even in a dozen lifetimes. We love you and we are so happy for you.
L'Chayim and Gelukwensen!
Update: the thumbnails mentioned above have been combined into a single page. Please see the Changes page for additional information.