Please help Haiti now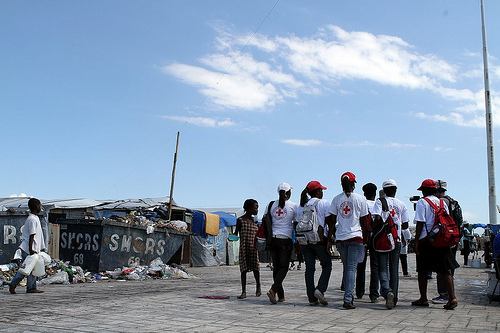 Photo:
British Red Cross
in Haiti
More than 1,400 Haitians have died from cholera in the past five weeks, and additional medical help is urgently needed:
The real death toll may be closer to 2,000, U.N. officials say. Hundreds of thousands of Haitians are likely to catch the disease, they say, and the epidemic could last a year, complicating an arduous recovery from the January 12 earthquake.
It can be hard to determine the best way to help. I've done a little digging and found that GiveWell's charity rating system is thoroughly researched so it can provide you with a good handle on which charities to support and how to make your dollar stretch as far as possible.
GiveWell lists Partners in Health and Doctors Without Borders as charities with distinctions for their work globally, and they recommend Partners in Health specifically for their work in Haiti.
Please remember Haiti now, and help if you can.
PS: This Sunday is the Haitian general election.