Jon Hicks' New Logo is The Joint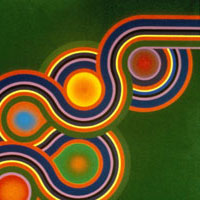 Jon Hicks (of Firefox icon fame) has a new logo, and it's freaking awesome. Hicks took his inspiration from Kazuya Sakai's Filles de Kilimanjaro III (pictured), a tribute to Miles Davis that he glimpsed in the Blanton Museum of Art while he was in Austin for SXSW this year. The new Hicksdesign logo is an electrified scalectrix mobius strip psychedelic double-cheeseball and it's totally fantastic. You'll have to hit his site if you want to see it but these images should put you in the mood.
It has totally got my juices flowing; only very recently I have been thinking about the possibility of developing Zero to One-Eighty with a particular seventies aesthetic that's stuck with me like glue since childhood—I think of it as the "brown and orange blob retro glass" style. Other than that, it's kind of hard to describe, and it's really hard to find anything that looks remotely like what I'm thinking about. These "mondo circles" (below) are the best I can do, but imagine them even blobbier in much warmer colours: browns, reds, yellows and oranges, and with shifting colour densities as you walk past them. (I think this was the pattern on the wall of a place we used to go when I was a kid.) If anyone can help me identify examples of this kind of work, or suggest places where I could go looking for it, that would be rad.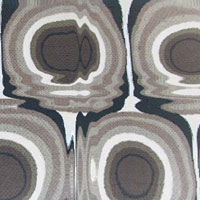 If you're interested in retro stylings that are going somewhere modern, check out Hicks' new logo. My feeling is that it will date pretty well. According to his blog he's going to be experimenting with colour variations, so I can't wait until he modifies it with autumn colours later in the year. The web site is also slated for development as Hicks finds his groove with the new look. Tubular.