Nobody Listens to Techno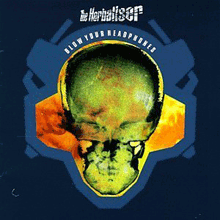 Well, I do actually. But until recently I had no idea what kind of techno, or to be more precise, what kind of electronic music. Eminem stakes his own claim, although he is addressing Moby when he utters these famous words. What I know now is that Moby's best-selling work more accurately falls under the genre of ambient breaks, not techno. How do I know this?
Ishkur's Guide to Electronic Music, obviously.
No, it's not really obvious. I arrived at Ishkur's guide via AngryRobot's post, "Mapping the Techno 'Verse", via Jefe's links bar on zimelela.net. That pathway alone qualifies this entry for a Webphemera tag I think. It was the word "map" that caught my attention, as well as the funky graphic. On closer inspection it became clear that AngryRobot had been looking for the same thing I had been (without really knowing it) for quite some time: something that would explain the relationships between different species of electronic music, and provide something of a history of the different forms.
Why did I want this? Partly because—as AngryRobot deftly argues—the term "Electronica" is difficult to utter alound, let alone be allowed to structure a good fifth of your iTunes music library. But also because I sensed that there were musical affinities between my love of Faithless, Nine Inch Nails, Roots Manuva, Massive Attack, Goldfrapp and the inevitable "annuals" produced by the Ministry of Sound, but had no sensible way of connecting them. So without really knowing it, I had been on a quest for enlightenment for several years.
Ishkur, as it turns out, is a funny guy. He is also seriously dedicated to his passion. I spent quite a while browsing his maps of the various genres of electonic music (of which techno is but one part, alongside house, trance, breakbeat, jungle, hardcore and downtempo). His overview can best be described as definitive, but neither exhaustive, nor the final word on beats, breaks and hoovers. According to this guide at least, it turns out that my main electronic music interests lie in the following areas:
Trip Hop: Massive Attack, Portishead, Tricky, Herbaliser (but not really), Roots Manuva (on a particularly trippy day)
Downbeat: Bjork, Sneaker Pimps, Röyksopp, Beth Orton, Bowery Electric
"Illbient:" DJ Spooky, DJ Olive, the Boards of Canada
Industrial Rock: Nine Inch Nails, Rammstein, Rob Zombie
Acid Jazz: Nightmares on Wax, Kruder & Dorfmeister
Big Beat: The Chemical Brothers, Fatboy Slim, the Prodigy
Anthem House: Faithless, the KLF, and (quite some time back!) Culture Beat
I also picked up some interesting tips on "Ambient Goa" which I'm looking forward to checking out (ever heard of Shpongle?). Still, Ishkur's library does not answer all of my questions. I've not yet been able to place several favourites: Bomb the Bass and Apollo 440 are probably most at home somewhere in Jungle-land, but where exactly I wouldn't know ("Atmospheric" maybe?). If anyone has tips for me I'd be happy to hear them. In any case it would seem I've found myself a new spare-time project for the next few weeks. Reclassifying iTunes sounds like the perfect midwinter indulgence to Yours Truly.
I was remarking to Buddy a week or two ago that I would really love to see two artists like Trent Reznor and Alison Goldfrapp collaborate, preferrably on the soundtrack to the next David Lynch movie. What a trip. Meanwhile, I'll be trying to figure out what kind of techno I actually listen to. (Still love ya Marshall!)