That Seventies Logo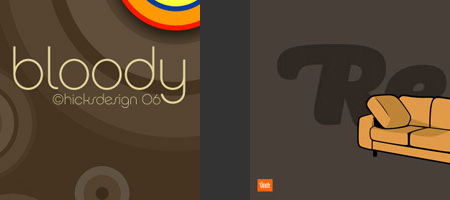 Jon Hicks' "Bloody Hippy" and Veer's "Relax"
I thought I was going to have to wait much longer to see this, but further to last week's launch of the new Hicksdesign logo, in response to which I made my nostalgias known, Jon Hicks has released a new desktop wallpaper that is totally my Most Favourite Ever. Now that's saying a lot because I've been so fond of my Relax desktop that it was very tricky to decide who should get what pixels. For now I've settled with the opposite of what you see above, stationing Relax on the display at left and Bloody Hippy on Abe at right.† And it's brown all 'round. Now BH will be with me wherever I go, and the couch—certainly the most comfortable I've owned—will be there when I get home.
This whole theme also goes perfectly with the new Goldfrapp album, Supernature, which is throbbingly wonderful (and perfectly circular). I'm imagining the Bloody Hippy's central logo spinning left and right while the background logos pulse like speakers to "Ooh La La." How about that Jon? Not that you haven't got enough on your plate right now. Actually, that could make a great first motion project for Yours Truly if I could just get my hands on a copy of Final Cut Studio for slightly less than the cost of a return trip to Australia. One can dream. No, wait: Elena just whispered four sweet words: "After Effects trial version." Juicy, juicy…
† Abraham is a loyal 12" PowerBook. Old Testament loyal.